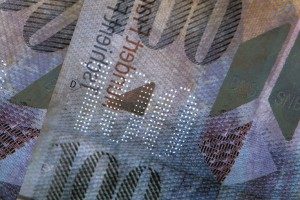 Counterfeited banknotes can have an enormous impact on a country's national security, politics and economy. That's why central banks strive to produce the most secure banknotes possible.
Integrating security measures
Coming up with effective new measures that enhance a document's design is one thing. Integrating them successfully is a different issue when it involves complex technology and production lines. IAI has years of experience doing both across the full spectrum of security documents: passports, ID cards, licences, banknotes and others.
MicroPerf technology
An example is the MicroPerf banknote security solution: the Swiss Security Printer Orell Füssli came up with the idea of applying micro-perforations in banknotes and asked IAI to develop the laser technology. The MicroPerf security feature is patented by Orell Füssli, IAI supplies the laser perforation system and the sheet handling system is supplied by KBA NotaSys.
The most secure banknotes in the world
Switzerland's banknotes are currently considered the most secure in the world thanks in part to the patented MicroPerf technology which is highly counterfeit-proof. The Swiss National Bank is one
of our valued customers who uses MicroPerf. The MicroPerf feature is used to protect leading banknotes, such as:
Swiss Francs
Russian Rubles
Romanian Lei
Lithuanian Litas
Chinese Yuan (to be installed)