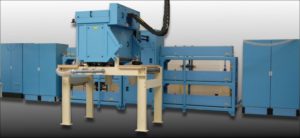 The MicroPerf system is specially developed for the application of the high level first line security feature MicroPerf into banknotes, using laser technology. It is a fully automated system which processes sheets from stack to stack.
The MicroPerf system is designed for sustained high quality production in an industrial environment. The ergonomic design, the user friendly touch screen display and the ease-of-use allow the operator to control the system easily under all circumstances. As the MicroPerf system meets the industrial standards in accordance with CE regulations, no special precautions nor training are required to safely operate the systems.
IAI supplies the laser system, whereas the sheet handling system is supplied by KBA Notasys. The MicroPerf feature is patented by the Swiss Security Printer Orell Füssli.