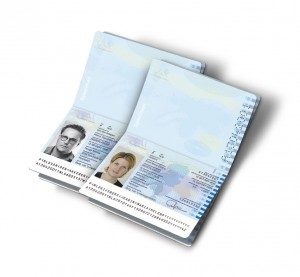 Passport fraud can have an enormous impact on a country's national security, politics and economy. When you work for a government agency responsible for issuing passports, you strive to make them as secure as possible. Coming up with effective new measures that enhance a document's design is one thing. Integrating  them successfully is a different issue when it involves complex documents and production lines. IAI has years of experience doing both across the full spectrum of security documents.
Passport personalisation technology
IAI offers a range of systems and features to personalise and secure passports. Our BookMaster systems are designed with the advanced security and/or personalisation features you need to safeguard your documents. Their modular design allows you to create a custom system that meets your specific needs for functionality, speed, finishing and special applications, like laser perforation. Each system features our unique laser and/or inkjet applied technologies that are robust, highly counterfeit-proof and easy to verify.
The most secure passports in the world
Some of the largest countries in the world have chosen IAI as their preferred partner to help them create passports with the most advanced security features:
Irish passport
Portuguese passports
Polish passports
Romanian passport
Bulgarian passports
Ukrainian passports
Azerbaijan passport
Costa Rican passport
Algerian passport
Moroccan passport